2-Way Radio Centre UK - radio hire from £7 per week
Organising an event of any sort and need to hire out 2-way radios?
It could be a festival, a sports tournament, a fair, a march or demonstration, conference, concert, a film or video shoot, event security and stewarding, a community fete or open day, music festival, concert or whatever else.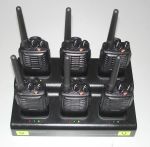 We hire out professional licenced Kirisun, Hytera and Motorola long-range 2-way radios from £7 per week or part-week (the price depends on quantity hired)
CLICK HERE FOR OUR FULL RADIO HIRE PRICE LIST
Any number of 2-way radios can be hired and can all communicate together in a group, and our radios have 12-16 channels, so that different channels can be assigned to groups of users by job role.
We hire earpiece / microphones, speaker/microphones and headsets for all of our 2-way radios from £1 + VAT per week
Each 2-way radio that you rent comes complete with rechargeable battery and "drop-in" mains charger unit (or multi-slot charger, depending on how many radios you hire)
Our 2-way radios have a range of 1 - 3 miles in open country, less amongst buildings, certainly enough for a park, sports stadium, conference centre, venue etc etc
You don't need to worry about licencing issues when you hire 2-way radios - you will be using our licence, so you don't need to do anything at all
2-Way Radio Collection Or Delivery Options
If you are in London, you can pick up your 2-way radios from our office at 70 Kingsgate Road, London NW6 4TE if you want to save on delivery charges
We can deliver them to you: we can send 2-way radios to you on a next day service for £11+ VAT, to most UK destinations (may cost more for 20+ radios)
We can often do SAME DAY delivery of rented 2-way radios in the London area - price depends on quantity and exact location - we can usually do this subject to availability
Hiring 2-Way Radios - Payment Options
We normally want payment via credit/debit card or BACS before hired 2-way radios are sent out, unless credit facilities have been agreed. We take Visa, Mastercard, Maestro/Switch and American Express
---