Headset Walkie Talkie Radios
Using Walkie Talkie Radios With Headsets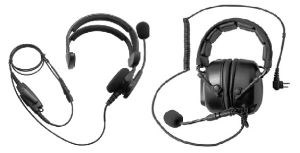 All of our walkie-talkie radios for sale and for rental have an audio accessory socket, into which can be connected a headset.
Two Models of Headset for Two-Way Radios
We supply two type of headset, first the light-weight "single ear" speaker headset with boom microphone.
This headset is sometimes called a "Madonna" headset, or even a "Britney" headset, because of its visual similarity to the stage microphone headsets they have often used on stage.
Then there is the larger "aircraft-style" walkie-talkie headset, which has an enclosed speaker over both the wearer's ears and a boom microphone.
This larger headset is useful in very noisy situations, because it cuts off the wearer from noise coming from around them, allowing them to hear walkie-talkie messages clearly.
Uses For Walkie Talkies With Headsets
The smaller headset can be used in many two-way radio applications, especially ones where the user has to do quite a lot of transmitting on their walkie-talkie.
The headset stays in place all the time allowing the user to keep their hands free.
The "aircraft style" headset is often used for camera operators filming loud events, especially live music. The headset protects their hearing while allowing them to hear instructions from the director of filming.
Buying Headsets For Walkie Talkies
Click on the picture of the radio headset that you are interested in to go direct to the product page where you can order them online.
Hiring Headsets With Our Walkie-Talkie Radios
We have both styles of headsets available to rent along with our range of rental walkie-talkie equipment. The aircraft-style headsets are often hired for filming concerts, for security personnel who work in front of loud amplified music, and also for use in motorsport applications.
CLICK HERE TO GO TO OUR ONLINE WALKIE-TALKIE RENTAL QUOTE AND BOOK SCREEN
CLICK HERE FOR MORE DETAILS ON OUR TWO WAY RADIOS FOR HIRE 
---