SIM Card Network Walkie-Talkie Radio For Rental
Hire Walkie-Talkies With 100 Miles Range (Or More!)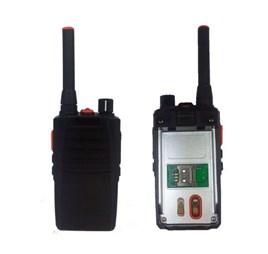 Our newest walkie-talkie for hire is a totally revolutionary radio. Unlike conventional walkie-talkies which transmit directly to each other and so only work over a few miles maximum, these walkie-talkies use the mobile phone network and can work over unlimited distances - provided they are used in areas with mobile phone coverage.
It is totally simple to use - just a rotary on/off/volume control and a Push To Talk button, and that's all.
They are great to use for events in towns and cities where normal walkie-talkies would struggle to get their signals out more than a few hundred metres.
Ideal hire applications include multi-venue events around a city centre, stewarding marathons, cycle races etc around an urban area, mobile security guards, "Shopwatch"-type schemes where standard radio signals cannot cover the whole area, etc etc.
These "walkie-talkies" use a mobile data SIM card to send messages over any UK mobile network. We provide them with special "roaming" SIM cards so they can make use of all the UK mobile networks: Orange, EE, T-Mobile, O2, Three, etc.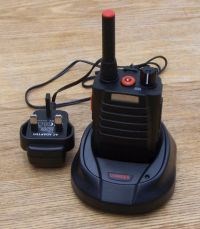 The radio weighs only 245g, and measures 15cm x 6cm x 4cm including the antenna.
It has a 6000mAh Lithium-Poly rechargeable battery pack.
Spare battery packs can be hired if required.
The walkie-talkie has a robust integral spring-loaded belt-clip.
There is a standard socket to attach earpiece / microphones and headsets etc, which we also hire out.
You can also hire leather cases with neck straps for a small extra cost.
CLICK HERE FOR DETAILS OF THE ACCESSORIES WE HAVE FOR HIRE
CLICK HERE FOR A PRINTER-FRIENDLY FACT SHEET ON OUR LONG RANGE SIM CARD WALKIE-TALKIES FOR HIRE
---