Will My Radios Work With Other Brands?
To properly answer this question, we must first consider the broad types of walkie-talkies involved.
Firstly, the radios need to be ones that use the same basic frequency band. Most "business" or "consumer" walkie-talkies will work on either the UHF band (400 - 470MHz) or the VHF band (136 - 174MHz).
It is not possible to get a VHF radio to "talk to" a UHF radio.
Then, you need to work out if your radios are programmable to many different frequencies, or if they are the fixed-frequency licence free type (often called "PMR446 radios).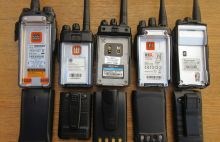 You can (usually) find out what type of radios you have by removing the battery from the back of the radio, and examining the information label that is often located under the battery. On the label will usually be printed:
the frequency or range of frequencies that the radio can use
the power output in watts
the full model number of the walkie-talkie
 WALKIE-TALKIE PROGRAMMING SOFTWARE & CHANNEL NUMBERS
Most professional walkie-talkie radios can be programmed to use literally any of thousands of different frequencies using some PC software, which is provided by their manufacturer.
The user just "sees" a simple channel number, which they can select using a control knob. But "behind" this simple "channel number" is the actual frequency that this channel number has been set to use.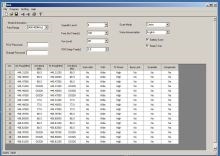 With the PC software, each of the walkie-talkies channels can be set to any frequency in the radios' frequency range.
Even if you had two walkie-talkies of the same make and model, if they have not been programmed to use the same frequencies, they will not communicate with each other.
ANSWER TO QUESTION
In summary, any two or more brands of walkie-talkie CAN be made to work with each other, provided that they are on the same frequency band, AND provided that they are or can be programmed to use the same frequencies.
But they will not necessarily communicate together straight away, or "out of the box", because they may well be set to use totally different frequencies.
IF YOU BUY WALKIE-TALKIES FROM US, WE WILL DO OUR BEST TO GET THEM TO WORK WITH YOUR EXISTING OTHER BRAND RADIOS
We sell a wide variety of walkie-talkies, and prospective customers often ask us if we can make our radios "talk to" some other radios that they already have. We can usually get them talking if you ask us to do so.
Often, in order to achieve this, we may ask you to bring or send to us one of your existing walkie-talkies, so that we can get the new ones that you are buying from us communicating with your existing walkie-talkies
CALL OR EMAIL AMHERST WALKIE-TALKIE CENTRE FOR MORE INFORMATION AND ADVICE
If you need to buy more walkie-talkies, please look at our WIDE RANGE OF WALKIE TALKIES FOR SALE, and call us on 020 7328 9792 or email us at: radios@amherst.co.uk  to discuss your requirements.
---