Walkie Talkie Radio Hire For Festivals & Events
Radio Communications for Festivals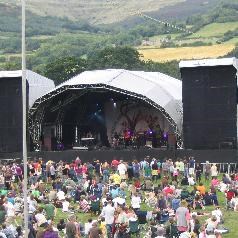 Our range of walkie-talkie radios, six-slot charger units, base stations and accessories will help you to set up, run and manage your event efficiently and safely.
The walkie-talkies have 16 different channels, so that you can allocate different channels for different tasks to avoid confusion.
So you can have one channel for security, another for car parking, another for event management, medical issues etc etc.
We can hire you the radios you need for organising your festival, fair or similar public gathering!
What You Might Need
Walkie-talkies for stewards, security and event management teams.
Make sure that you consider everyone who may need radios - including stewards, security guards, event management, car parking, medical staff etc.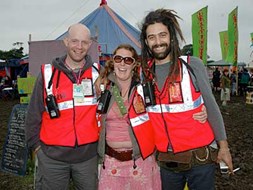 Spare Battery Packs
If the radios are likely to be in use 24 hours a day, you will need to hire some spare battery packs for them. The spare batteries can be left on the chargers, ready to be quickly swapped over as necessary. With at least two battery packs for each radio, the radio should always be available for use whilst the extra batteries are recharged.
Earpiece / Microphones and Headsets
Without earpiece/microphones, you may find that some of your staff cannot hear their radios over the music and the noise of the crowd. We also have lapel speaker/microphones and headsets.
Vehicle radios
If you have security vehicles driving around the site, and out into the surrounding countryside, then we can provide vehicle radios that have a longer range than the walkie-talkies. They plug in to the vehicle's 12 volt accessory socket, and use a magnetic antenna that sticks to the roof.
Base Station radio
You may want a more powerful radio in your event control office, to ensure that walkie-talkie users even at the furthest-away points on your event site can hear messages from the event management.
Repeaters
If your event site is simply too large for walkie-talkies to cover the whole site, we can provide you with one or more repeaters to extend the area covered.
CHOICE OF TOP-QUALITY FESTIVAL WALKIE-TALKIES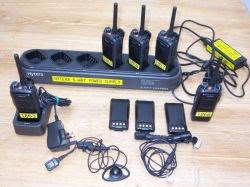 We have hundreds of state-of-the-art digital Hytera PD705 walkie-talkies for hire, together with a full range of accessories for them.
These are ideal for use at festivals and similar events, because they are IP67-rated and so water-proof, and have a loud, clear loudspeaker and qauality microphone for clear hearing of speech in noisy outdoor environments.
We also have hundreds of analogue VHF and UHF walkie-talkies in our hire fleet.
We have repeaters for hire to work with all the walkie-talkies in our fleet.
---