Kirisun PT4200 UHF Hire Walkie Talkie Radio
Our powerful, compact, professional Kirisun 4 watt UHF walkie-talkies are as powerful as any generally available walkie-talkie, and ideally suited for a variety of uses, including events in bars, clubs and live music venues, conferences and trade shows, for use in hotels, etc.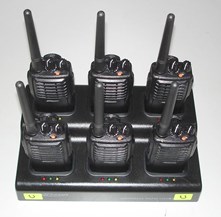 The Kirisun PT4200 UHF walkie-talkie has 4 watts transmission power - giving the best range available in a UHF walkie-talkie radio, and 16 channels.
It has enough power and range for most events - for a sports stadium, conference centre, and outdoor events, and for use around large office buildings, shopping centres or leisure facilities.
UHF walkie-talkies have the best signal penetration inside buildings.
It is totally simple to use - just a rotary on/off/volume control and rotary channel selector.
It has 16 channels, and each channel has a CTCSS code preset to screen out interference from other radio users nearby.
The radio weighs only 215g, and measures 20cm x 6cm x 4cm including the antenna.
It has a 1200mAh Lithium-Poly rechargeable battery pack.
Spare battery packs can be hired if required.
The walkie-talkie has a robust integral spring-loaded belt-clip.
There is a socket to attach earpiece / microphones and headsets etc, which we also hire out.
You can also hire leather cases with neck straps for a small extra cost.
These radios can also communicate with our "base station" ICOM radios, and use our repeaters to extend range.
We have various specialist accessories available for these radios, car power adapters and "aircraft" style full headsets with boom mics.
CLICK HERE FOR DETAILS OF THE ACCESSORIES WE HAVE FOR HIRE
CLICK HERE FOR A PRINTER-FRIENDLY FACT SHEET ON OUR UHF HIRE WALKIE-TALKIE
---