Walkie Talkie Hire For Film, TV & Video Production
We specialise in providing walkie-talkie radios and associated accessories for use on film, TV and video sets and locations.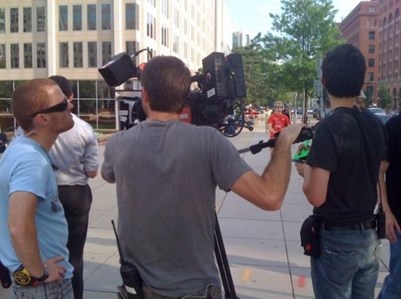 Even a small film production can benefit from using two-way radio communications.
The ability to communicate by radio with key people anywhere on your location saves massive amounts of wasted time!
Radio Features
16 channels - allowing different groups of users a channel each if needed (cameras, cast, etc)
Powerful - our walkies use the maximum power available (4 watts UHF) for handheld radios
Our walkies us dedicated equipment hire company channels - not used by the general public, so no risk of interference from other users
Comparable to and compatible with Motorola GP320, GP340, GP344 etc
Dead simple to use - just switch on, choose your channel, and you are ready to go - no need to waste much time showing crew how the radios work
Compact 6-slot chargers smaller than a sheet of A4 paper for ease of charging and portability
Full range of useful accessories available to buy or to hire - including earpieces, headsets, speaker/mics, leather cases with neck straps, spare batteries, etc etc
We have strong metal boxes and flight cases available to keep the radio equipment safe when being moved around
---