Hiring Walkie Talkie Radios
Organising an event of any sort and need to hire out walkie-talkie radios?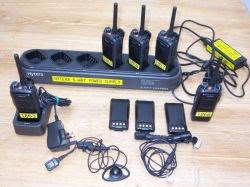 It could be a music festival, a village fete, a car-boot sale, a sports tournament, a fair, a march or a demonstration, a conference or trade show, concert, film or TV shoot, wedding, event stewarding, religious gathering, school trip or event, ski trip, you name it - we have walkie-talkie radios to suit your needs for short and long-term hire.
Walkie Talkie Hire Anywhere in the UK from £7 per week per radio
The hire price per radio comes down as the number of radios hired increases.
We have price breaks for hiring 10, 20, 30 or more walkie-talkies.
Radio chargers are always included in our basic walkie-talkie radio hire price.
We offer  a 25% discount for UK-registered charities and for students.
We can also hire out earpiece/mics, headsets, spare batteries, leather cases and other accessories to go with the walkie-talkies.
As well as walkie-talkies we also hire more powerful vehicle-mounted and "base station" two-way radios, and repeaters to boost the area covered.
We now have DIGITAL WALKIE TALKIES FOR HIRE and we also have super long-range NETWORK WALKIE-TALKIES FOR HIRE.
Find out more about our radios for hire
USE OUR ONLINE QUOTATION AND BOOKING SCREEN - OPEN 24/7
Get advice about what radio equipment I might need
See a list of ALL OF OUR WALKIE-TALKIE radios for hire
See a full radio hire price list (PDF)
---