Waterproof Walkie-Talkie Radios
If you need to use radios in wet conditions, you will want to choose a walkie-talkie that will not be damaged by liquid penetration.
Different Levels of Water Resistance
There are several different levels of water-resistance / water-proofing, defined by the industry standard "ingress protection" (or IP) ratings.
Most walkie-talkies can be divided into four types of "water proof", although in practice all walkie-talkies, being designed as portable, outdoor-use devices can be used in heavy rain without problems.
IP55 / IP65 - can be hosed with water without problems
Our best-selling Kirisun PT568 is IP65-rated and so ideal for outdoor use in wet weather, use on building sites, for outdoor activities etc. We have these radios for hire - they are often hired for festivals, building site use, and outdoor events, and we often have to clean mud off them by washing them under a running tap, which does not damage them.
The Entel HX446L licence-free radio, and its more powerful "big brother", the HX483 are both IP55 rated.
IP67 - immersible up to 1m for up to 30 minutes
These radios should survive being dropped into water and fished out again, provided it is not too deep (up to 1 metre).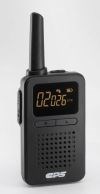 Our compact little CPS CP226 is IP67 rated.

Also, the digital Hytera PD705LT that we sell and also hire out is IP67 rated.
IP68  - totally immersible  - ideal for swimming pool and lifeguard use
Our Entel HT782 radios have this completely waterproof rating, making them ideal for situations where the radio could end up getting dropped into deep water.
We have supplied them to several swimming pool and leisure centres, where they are used by staff around the pool.
They are ideal for use by swimming pool or beach lifeguards, who may have to jump into the water to rescue someone, whilst their radio is still attached to their belt.
---