Hytera Digital Hire Walkie Talkie Radio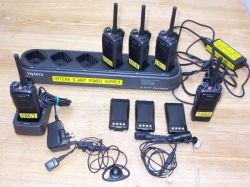 We have Hytera PD705 digital 4 watt UHF walkie-talkies available for rental. 
The Hytera PD705LT UHF walkie-talkie has 4 watts transmission power - giving the best range available in a UHF walkie-talkie radio, and 16 channels, with the added benefit of digital clarity.
It has enough power and range for most events - for a sports stadium, conference centre, and outdoor events, and for use around large office buildings, shopping centres or leisure facilities.
It is totally simple to use - just a rotary on-off and volume knob and a rotary channel selector knob.

It has 16 channels, and each channel has a CTCSS code preset to screen out interference from other radio users nearby.
The radio weighs only 335g, and measures 22cm x 6cm x 4cm including the antenna.
It has a 2000mAh Lithium-Ion rechargeable battery pack. We provide both single and six-slot chargers with all of our hired walkie-talkie radios.
Spare battery packs can be hired if required.
The walkie-talkie has a robust integral spring-loaded belt-clip.
There is a screw-in accessory socket to attach earpiece / microphones and headsets etc, which we also have available for hire.
You can also hire leather cases with neck straps for a small extra cost. 
CLICK HERE FOR DETAILS OF THE ACCESSORIES WE HAVE FOR HIRE
CLICK HERE FOR OUR FULL DIGITAL WALKIE-TALKIE HIRE PRICE LIST
---