ICOM/Kirisun Vehicle / Base Station Radios For Rental
25 watt Vehicle-mounted or Static "Base Station" Radio Transceivers For Hire
Our full-power professional ICOM or Kirisun 25 watt VHF or UHF vehicle radio for hire can be used either mounted in a vehicle, or (linked to a 240v - 12v power supply) as a "base station" to communicate with other mobile radios, whether in vehicles or walkie-talkies.
---

Vehicle / Base Station Radio For Hire
The ICOM F110/F210 VHF or UHF radio transceiver (or our similar Kirisun PT8100) has 25 watts transmission power - giving the best range available in a mobile or base station radio. It can be used in a car or van, as a mobile radio, or it can be used in a fixed location, as a "base station". It is totally simple to use - On/off button, rotary volume control and channel selection buttons. It has 4 channels, and each channel has a CTCSS code preset to screen out interference from other radio users nearby. The ICOM radio is set to the same channels as our UHF and VHF walkie-talkies so it will communicate with them.
Size: 15 cms wide x 13 cms deep x 4 cms thick Weight: 800g (this is just the radio) (if it is being used as a "base station" in a building, then you also need the mains power transformer, which weighs 2.8Kg) Channels: 4 (same as first four channels on our walkie-talkies) Range: Max around 8-10 miles in clear, open country. Less amongst or inside buildings. Licencing: Uses standard VHF or UHF Ofcom-licensed hire frequencies - you use our licence, so nothing for you to do at all.
---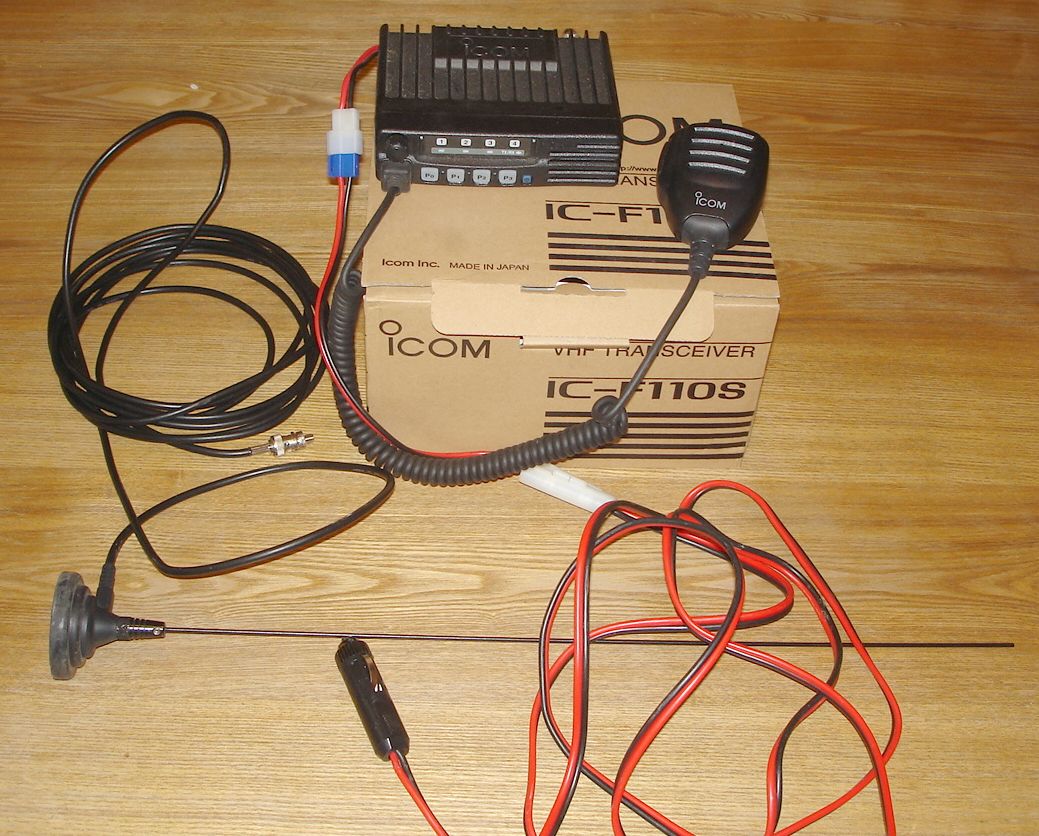 Vehicle Radio Hire - Kit Supplied
If the mobile radio is hired to be used in a vehicle, this is how it is supplied. The radio's power lead simply plugs into the car's 12v "cigarette lighter" socket. The magnetic attachment aerial ("mag-mount") simply sticks onto the metal roof of the vehicle with the wire running in through a window. We even have some 24 volt - 12 volt adapters for users of larger commercial vehicles with 24v electrics.
---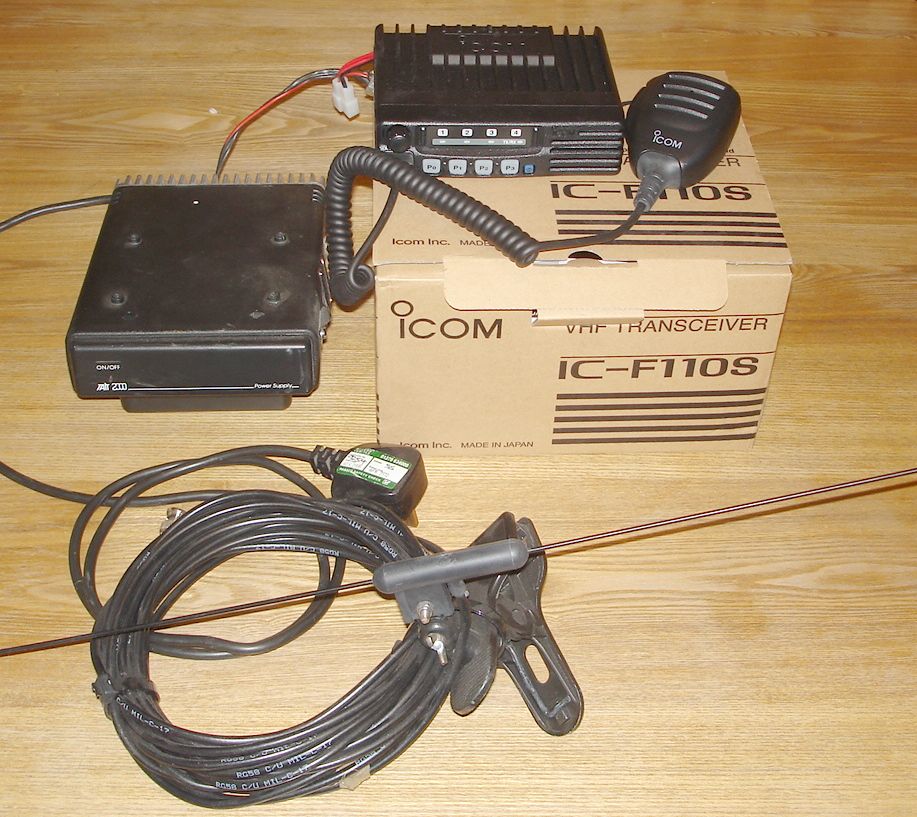 Base Station Radio Hire - Kit Supplied
If the ICOM radio is hired for use in a fixed location, then it is supplied with an appropriate kit. This consists of two items. A transformer that plugs into a 240v mains socket and gives the 12v needed by the radio. An antenna with a 10 metre long cable and a large spring clip for attaching to a convenient mounting point.
---